At Central Scotland Joinery, we can provide high-quality products for your roofline, including guttering, downpipes, soffits and others – all of which are found along the line of you roof where it meets the supporting wall. All of our products and technology will ensure that your home is effectively protected from water damage now and in the future. Not only this, but they look great!
Why buy our guttering and roofline?
| | |
| --- | --- |
| | We offer a variety of styles and only use virgin upvc (no sun discolouration) |
| | We provide a ten year insurance backed guarantee – read more |
| | Our products are certified and recommended by the Energy Saving Trust – read more |
| | We have over 10,000 happy customers – read more |
| | We don't take deposits or upfront payments |
| | We offer a variety payment methods including competitive financing |
| | We are committed to the environment – read more |
| | We regularly donate to local charities and non-for-profit organisations – read more |
Customer Testimonials
Click on any review to be taken to the ReviewCentre.com website where we have hundreds of 5 star reviews!
Recent guttering and roofline installations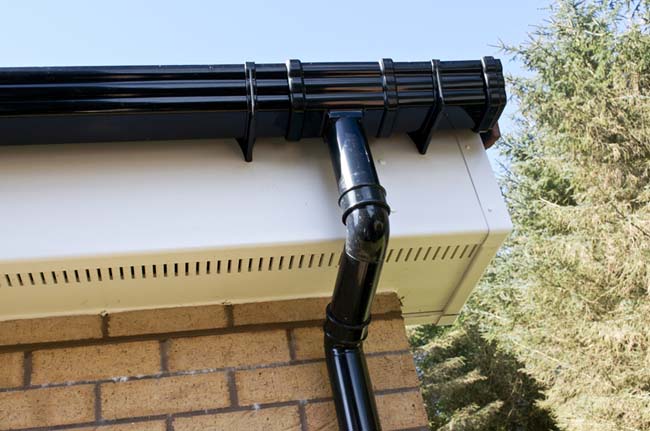 Guttering and Drainpipes
Our guttering and drainpipes are designed to be high quality, and virtually maintenance free so that they work for you and your home for many years to come.
High quality products are essential when it comes to making sure that rainwater is kept away from the roofline, protecting your walls and your property from damage. Our modern designs ensure that water flows evenly through the drainpipe, and you'll never experience a leak!
Our products are designed to minimise any blockages when it comes to debris getting stuck in the guttering, which will simply be washed out or blown away in the wind. This is what makes our installations so popular with homeowners!
Fascias, Bargeboards and Soffits
Your fascias, bargeboards and soffits are found along the edge of your roof, supporting the tiles and guttering, providing ventilation to your roof and projecting an important outward appearance of your home. They are also vital in protecting your walls against the elements.
In the past, you've probably had to battle with a fascias and soffits that are cracked, warped, peeled or flaked. But with our quality UPVC products you'll never have to worry about this again! What's more, they really add to the aesthetic appeal of your home.
Match the Look of Your Home
Our wide range of roofline product options mean you can easily choose a look that will match the individual style of your home and roof. You will also find that replacing what's already there can make a huge different in terms of the outside appearance of your property.
We can provide a number of traditional and decorative finishes to replace traditional products and maintain the same character. Just get in contact with us to let us know your needs and we'll talk you through what we can offer for your home.